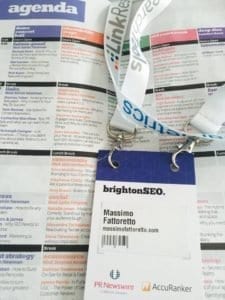 Quest'anno dopo tre anni sono ritornato al Brighton SEO, evento molto bello ed interessante dedicato al Search Marketing e le mie aspettative non sono state deluse, circa 50 speech suddivisi in 5 differenti sale, con relatori eccellenti e ben preparati.
Si sono toccati differenti argomenti (ho partecipato quasi sempre alla green room – technical SEO) che ho potuto apprezzare e che mi ha fatto riflettere per nuovi SEO test da sperimentare.
A differenza degli speech di 3 anni fa ho potuto constatare come ci siano tante nuove micro nicchie che stanno nascendo attorno alla SEO.
C'erano inoltre un bel pò di SEO… 🙂
SEO is dead? Yea right.#BrightonSEO pic.twitter.com/PAGuq54ud8

— Danny Richman (@DannyRichman) 22 aprile 2016
Pensando di fare cosa gradita vi inserisco le slide di questo Brighton SEO 2016 suddivise per tematica.
Ho suddiviso gli speech in 5 macro aree per favorirvi così la lettura cominciando dagli speech che ritenete più vicini alla vostra area.
Eccovi quindi le macro aree scelte:
technical SEO
content marketing
local SEO
Ux
Social
Le slide degli interventi del Brighton SEO
Technical SEO
Content Marketing
Local SEO
Olga Andrienko – How to localise your global brand
Ux
Social
Se manca qualche slide scrivetemi pure in privato che le aggiungo o twittatemi qui @mfattoretto.
If you spoke at BrightonSEO and don't see your slides here, contact me via Twitter (@mfattoretto) or write me here.
A presto e buono studio!